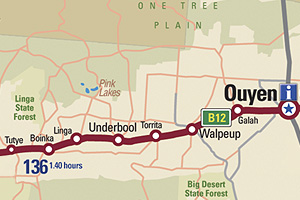 The Linga walking trail is an interesting short walk where many plants including small greenhead orchids can be found. The walk is in the same area as where the sporting grounds once were.
The name Linga is believed to be an invented derivative from the traditional Aboriginal name Lar-gni which meant camp of... because as a place to camp it was a place to linger.
The Post Office (as a receiving office) opened on 15 July 1912 when a regular mail service was provided by the opening of the railway from Ouyen to Murrayville a month earlier. It was called Manpy until 1913 and closed in 1975. At its peak, Linga boasted of a General Store, Billiard Saloon and Coffee Palace, Post Office Telephone exchange and Commonwealth Bank Agency.