The Heart of South Australia's Mallee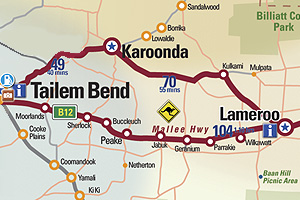 Surveyed in 1910, Karoonda is Aboriginal for "winter camp". By 1914 the town had grown dramatically and became a thriving railway town by the 1920s.
Karoonda is an important farming region for wheat and sheep. The big Merino ram is a valued symbol of the town that sits near the railway years and highlights the importance of sheep farming in the district. Another point of interest in Karoonda is Pioneer Park. You can stroll around the park which is a fascinating collection of early mallee memorabillia including buildings, railway information, farming and machinery, signage and much more. You can also begin several bushwalks from here.
Karoonda also has a very well established Farm Fair. The 2 day festival is run annually in April and well worth a visit as the town comes alive.
Karoonda Pioneer Park
The Pioneer Park is based on the railways unique to the Mallee Lands and the Karoonda East Murray District.
The Karoonda Pioneer Park represents original artifacts of the area. The way of life of the district's pioneer period from 1910 through to 1950 and prior to that Agricultural era reference to the Pastoral era from 1850 through to 1890, Aboriginal culture and natural history. The adjacent Nature Trail and Bush Walk is a reminder of the landscape of the region.
The Site
Originally the site was surveyed as parklands in 1913 and re-surveyed in 1928 for building blocks. In 1982 it was restored as parklands and made available to develop the Pioneer Park. The open area was cleared when the first settlers came in 1910 and was known locally as 'The Patch' and was used pre 1920 for recreation, and Karoonda's first show in 1921. Later uses include a Highways Department Depot and emergency Sheep salesyards.
Ngarkat Culture
Very little is known of the Ngarkat people who occupied the local council area, except they had all either died out or had retreated to missions by the time pastoralists too up their leases around 1860. Many were apparently killed in a battle with a neighbouring tribe south of Lameroo prior to then. There are traces of their campsites near Mantung and tools have been randomly found throughout the area, some of them forming the small but important collection here. This includes axe heads, grinder plates, hammers, anvils and granite pieces similar to those used by the Coorong tribes.
Railyards
Unlike other farming districts, railways had to be in place before serious settlement was possible. The 160 metres of track here is the 'broad gauge' (5 foot 3 inches), originally from Borrika and Nunkeri sidings. Some of the steel sleepers were originals when the line was built in 1911. Rolling stock includes an open 'Y' truck, important transport for mallee roots away and incoming goods in the early days; an 'SF' Sheep van; a passenger carriage; an 'ABAA' goods van; a 'DWF' louvered van, and a '75 Class' railcar. The carriage had been Permanent Way Kitchen when acquired, used here for storage and local history oddments. The ABAA van until recently housed the 'Mallee Lands Railway Museum' now being developed at the old Karoonda Railway Station.
The Railcar was originally #51 and has been converted to a Passenger Wagon Sleeping Van #13. It is used at present for archives and Ngarkat Aboriginal Culture. It was built in 1951 and in 20 years service it travelled 2,445,887 kilometres.
The Mindarie Pumphouse dates from 1917; the Blackstone Oil Engine (#25) inside served another railway station before then. Used until 1981, pumping water for the township after steam locomotives ceased operation. Rated at 10 hp @ 250 rpm, bore 7 inches, stroke 14 inches, fuel, kerosene and compression ignition.
The Section Car Barn was located at Karoonda Railway Station, from Yurgo Railway Station c1960. The pull trike last had service at the Nairne Railway Station signal lamps. The motorised Section Car was used on the Eyre Peninsula network originally. Like the Water Column, which came from Renmark Railway Station, all are typical of units used throughout the local rail system.
The Yurgo Railway Station is all original Take Out Shed, platform and sign. There were various designs for these Take Outs, this one being the pre-fabricated model. More information can be found displayed inside.
The Rail Siding is part of a typical 'pioneer embryonic township' which occurred at most of such sidings about ten miles (16 kilometres) apart, only Karoonda surviving as a major centre.
Pioneer buildings
The Wynarka Methodist Church (1913) is another unit, (it typically served also as a school, a public hall, various meetings venue). The original organ, lectern etc. are set up, and early school artifacts. It is intended to eventually displayed the history of all the local churches in this building. Next unit is a pioneer store modelled on the Homestead Commbe Cash Store operating 1913 pre-town survey. A Blacksmith cum early service station follows.
Pioneer Farm
This includes the Hood family house built 1913 near Sandalwood. Mostly original, the 'laundry' has a display of early 'washday' equipment. The 'First Homestead' humpy is typical, although they did vary a lot, jute bags whitewashed or mallee boughs sometimes used in lieu of iron sheets. Inside is original bush-made furniture, including an ingenious cool safe.
The original Kunlara Post & Telegraph Office is located similarly to its original setting from a farmhouse 600 metres south-east of the first Kunlara Railway Station, 48 kilometres north of Karoonda. It was probably the smallest post office in South Australia. The postbox and other items are farm made from wooden packing cases. There were never any subscribers to the telephone service so Kunlara acted as a public telephone. The society has one original example of the Kunlara postmark.
A 'smithy' was an essential part of a farm in the days of horses and before electric welding was available. Many items of equipment and repairs were done on-farm using forge, anvil and swage block (plus a lot of muscle). The smithy here is original set up by Borrika pioneer v. Brown in 1914. The charred timbers resulted from a fire one time. You can see examples of forge welding and farm-made equipment (cockynology) such as trace 'chains' made from scrap hoop iron.
The Bush Shed was orginally a stables built by Copeville pioneer J. Bolt in 1944. The native pine posts were logged near Mantung, the bottoms charred while green to deter termites. The roof was usually wheaten straw. One end has been typically enclosed as the Chaff Shed. Another part, also typically, a cocky farmers Shearing Shed. (Note the natural air conditioning). Many a young aspiring shearer was broken in a shed like this. The theme of it all was 'economy' using what was available where possible.
The Horse Works untilises the power of two horses to create rotary motion on a shaft through gearing to drive machinery such as the nearby chaff cutter. Not many Mallee farms had one as oil engines had become readily available about 1920. This one was found completely buried in sand in 1982, at Westover's farm, Halidon.
Information on Pioneer Park from the Karoonda & District Inc. and Karoonda & District Historical Society
---
Karoonda Services
Karoonda Hotel
15 Railway Terrace, Karoonda SA 5307
Ph: (08) 8578 1006