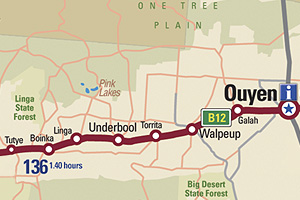 There are three native flora reserves located in Boinka. The road to the cemetery passes through one of these and it is well worth a drive during spring to see the flowers in bloom. One of the few remaining single room schools stands here on its original site, it is now the community centre and houses memorabilia of the district.
It was thought that the original site reserved for Boinka township was block 40, Parish of Boinka. However, Parish maps show this site as being marked Tutye Station.
Early settlers, Bond, Megaw, Hendy and McDonald camped at this site, Campbell's Tank, when they first arrived. With the arrival of settlers in 1911, the first buildings began to appear in the relocated town site, along the Highway, Renfrey and Moroney Streets. A much used thoroughfare was Cow Dung Lane. Research of available records and oral history of the early Boinka township does not indicate conclusively the sitings of the first businesses. The first store was operated from a tent by J. Kay who sold groceries. Kay purchased Allotment 22 Section 2 (July 2, 1912). Town blocks went up for sale in the new town of Boinka on the 2nd July, 1912. Prices at Boinka went a lot higher than the blocks at Murrayville and Cowangie. The average price per block at Boinka was £48.45 the first premises appeared during 1912.