Great Mallee Experiences
• Visit Old Tailem Town Pioneer Village
• Call in on the UNESCO Heritage award-winning Kow Plains Homestead at Cowangie
• Play a round of golf at the 18 hole course in Lameroo
• Have a bite to eat at the award-winning Pinnaroo Bakery
• Explore Pinnaroo's Mallee Tourist and Heritage Centre
• Find the church in Underbool that the legendary RM Williams helped to build when he was 13
• See Australia's largest Mallee stump in Ouyen
• Walk through the Dryland Gardens at Walpeup, see the classic WWI 'welcome home' banner and tapestry mural
• Experience the beauty of the Pink Lakes
• Stand underneath one of the many massive wheat silos
• Visit our friendly visitor information centres
• Get to understand our colonial heritage at Dolly's Golden Rain Tree Crafts & Heritage or the Mallee Heritage Centre
• Learn all about Letterpress Printing with one of Australia's best collections in Pinnaroo
• Take one of the 4 self-guided Lameroo town walks and explore our past, today and future
• How about a round of golf at the greened 18 hole Lameroo golf course or Pinnaroo's 9 hole course
• Maybe, definately a bite to eat at the famous Pinnaroo Bakery
• Munch on a picnic lunch at Geranium
• Experience some of the best preserved Mallee landscapes in the world at the Ngarkat Conservation Park
• See if you can find a kangaroo, emu or mallee fowl in one of our Conservation Parks
• Get up early one morning, see the sunrise and listen to the country start to wake up.
• Take your camera as we've got some of the best sunrises you'll ever experience.
• Discover some interesting points of interest in the region including Wilkawatt, Parrakie, Yappara, Karte, Guarrai, Parilla Well and Baan Hill
• Stop in at one of few but unique country pubs. Say 'cheers' with a cold drink and local experience.
• Find yourself one of the 300 species of Mallee Flowers in spring
• Reminisce at a country show at Pinnaroo in October
• Get the time right and you can experience the famous Pinnaroo Spudfest.

Tailem Bend Golf Club
Holes 9; Length (m) 5403; Par 70
Parkland Street, Tailem Bend, SA 5260
Phone (08) 8572 3115

Lameroo Golf Club
Holes 18; Length (m) 5513; Par 71
Chandos Terrace, Lameroo, SA 5302
Phone (08) 8576 3470

Pinnaroo Golf Club
Holes 18; Length (m) 5748; Par 73
Devon Terrace, Pinnaroo, SA 5304
Phone (08) 8577 8272

Murrayville Golf Club
Holes 9 (x2); L (m) 5858; Par 74
Murrayville Recreation Reserve
Murrayville, Victoria 3512


Phone (03) 5095 2020

Underbool Golf Club
Holes 9 (x2); L (m) 5844; Par 72
Monash Avenue,
Underbool, Victoria 3509
Phone (03) 5094 6264

Ouyen Golf Club
Holes 18; Length (m) 5892; Par 71
Dvakers Street, Ouyen, Victoria 3490
Phone (03) 5092 1068

Manangatang Golf Club
Holes 18; Length (m) 5211; Par 69
Recreation Reserve Sports Road,
Manangatang, Victoria 3546
Phone (03) 5035 1469

Tooleybuc Sports & Golf Club
Holes: 9; Length (m) 4647;
Par 66; ACR 64
Lockhart Road, Tooleybuc NSW 2736
Public golf course open 7 days
Phone (03) 5030 5476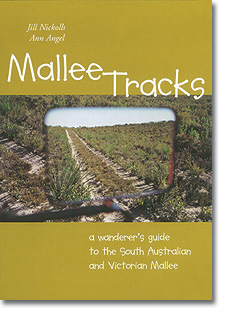 Available at:
maps books travelguides
A Wanderer's and Traveller's Guide to the South Australian and Victorian Mallee
The authors have lived, taught and farmed in the Mallee country for more than 30 years. During this time have unearthed a wealth of information on the region's pioneers, flora and fauna, things to do and places of interest. Some of these places are well known, others can be considered to be off the 'beaten track'.
Nineteen individual tours are described with detailed track notes pointing out places of interest along the way. There is a good mixture of 4WD and car touring options.
A great feature of the book is background information on many of the old Mallee towns, some of which have survived and others which have gone, but not necessarily forgotten. The book reveals clues as to the identity of many former towns in the way of ruins, building sites, old graves, and neglected sporting grounds. Area of coverage includes Sunset Country, Big Desert, Wyperfeld, Mallee Highway, Pinnaroo, Ngarkat and Billiatt.
Soft cover 228 pages plus index
Full colour 240mm X 170mm
ISBN 0 646 42023 2